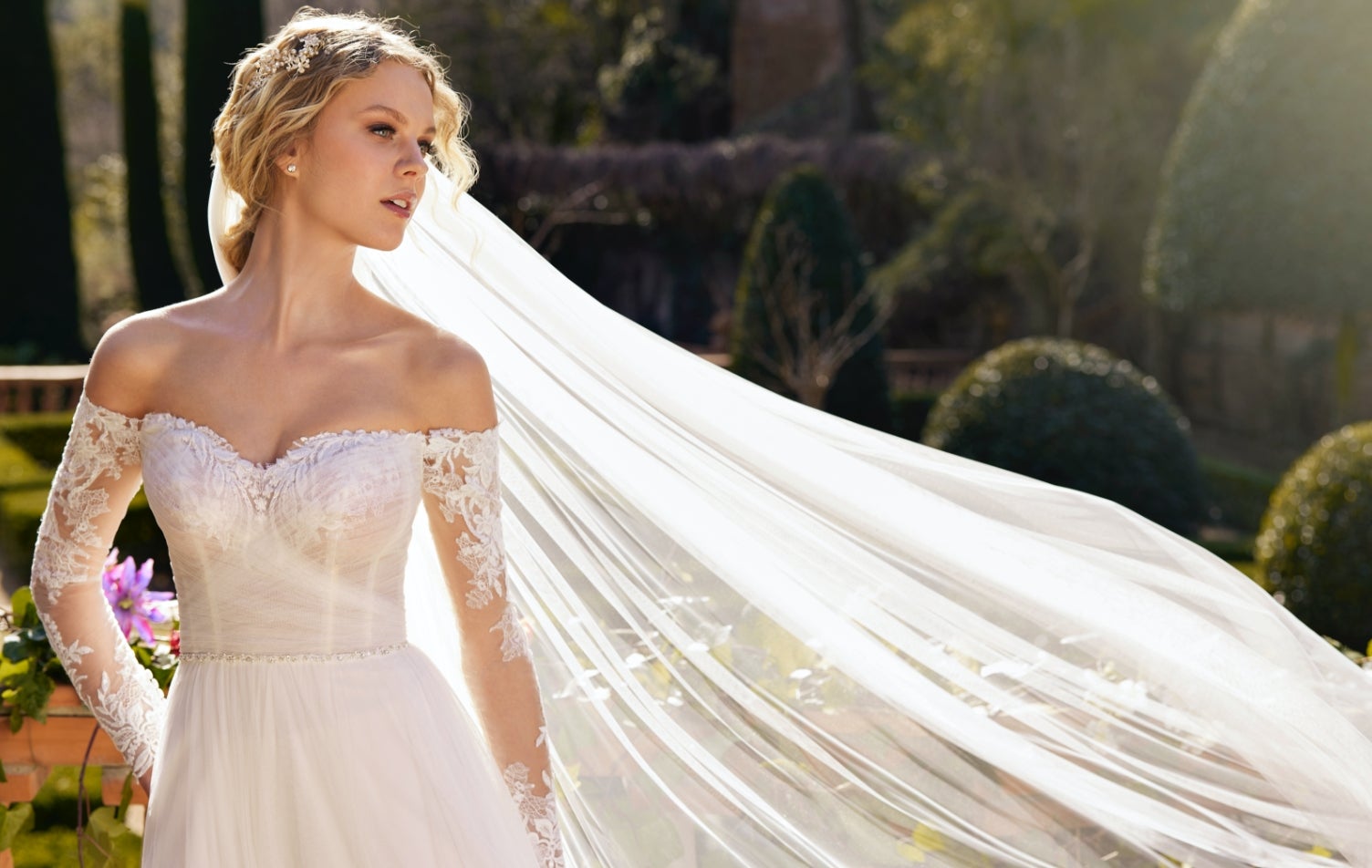 It's a bride's most important accessory. So which bridal veil should you choose for your dream look?
Not all wedding dress veils are created equal. That said, choosing the right one allows a fair bit more freedom than other accessories, say shoes or jewelry.
Wedding veils come in many lengths, from ''fingertip' (aka arm's length) to full length, which is often called a 'cathedral' length. They are mostly crafted in fine tulle, though sometimes organza too, which provides a little more volume.
Consider Embellishment On Your Bridal Veil
When choosing a bridal veil, either short or full length, the main thing to consider is embellishment.
If your wedding dress has a gorgeous tattoo back, you won't want to cover that as you walk down the aisle with an extra layer of embroidery; so choose an unadorned veil or one that has an embroidered hem.
On the other hand, if you have a sleeveless or backless wedding dress, a heavily embroidered veil can look gorgeous against your bare skin.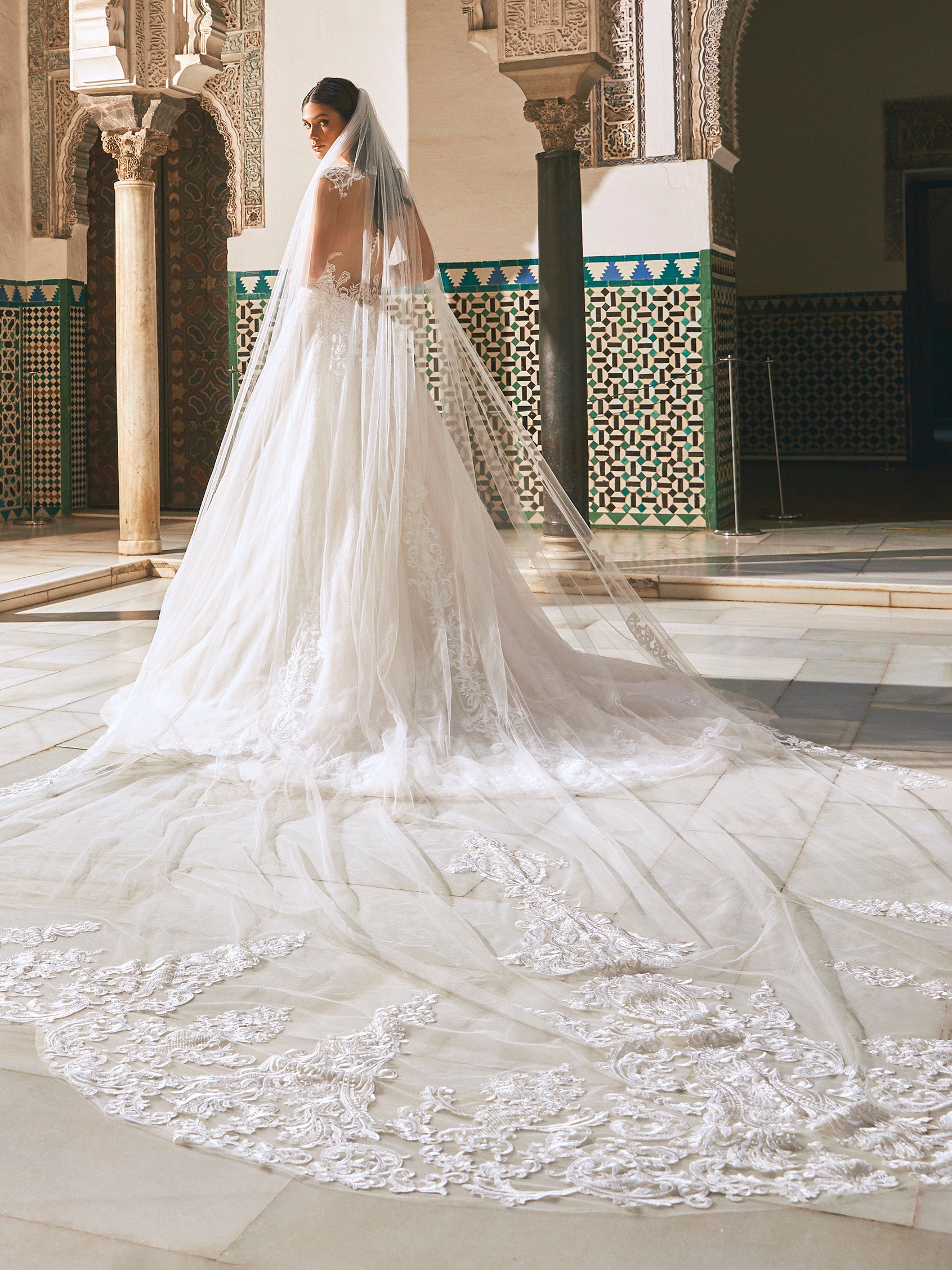 The Importance Of Volume
If you want to celebrate the tradition of your father (or whoever gives you away) lifting the veils when you 'meet' your groom at the altar, then choose a double layer veil.
Be aware though that voluminous veils are really that suitable for outdoor weddings – particularly beach weddings – as they can often be difficult to manage in breezy conditions.
For short and simple wedding dresses, which are trending thanks to a rise in civil and courthouse weddings, a short bridal veil reaching to the shoulders or mid-back can look totally chic.
Or instead of a traditional veil, consider a 'birdcage' or 'blusher'. Both of these are a short wrap of net or tulle that cover the bride's face. They look more like a fascinator than a traditional wedding veil, and can be easily removed and stored away once the celebrations start.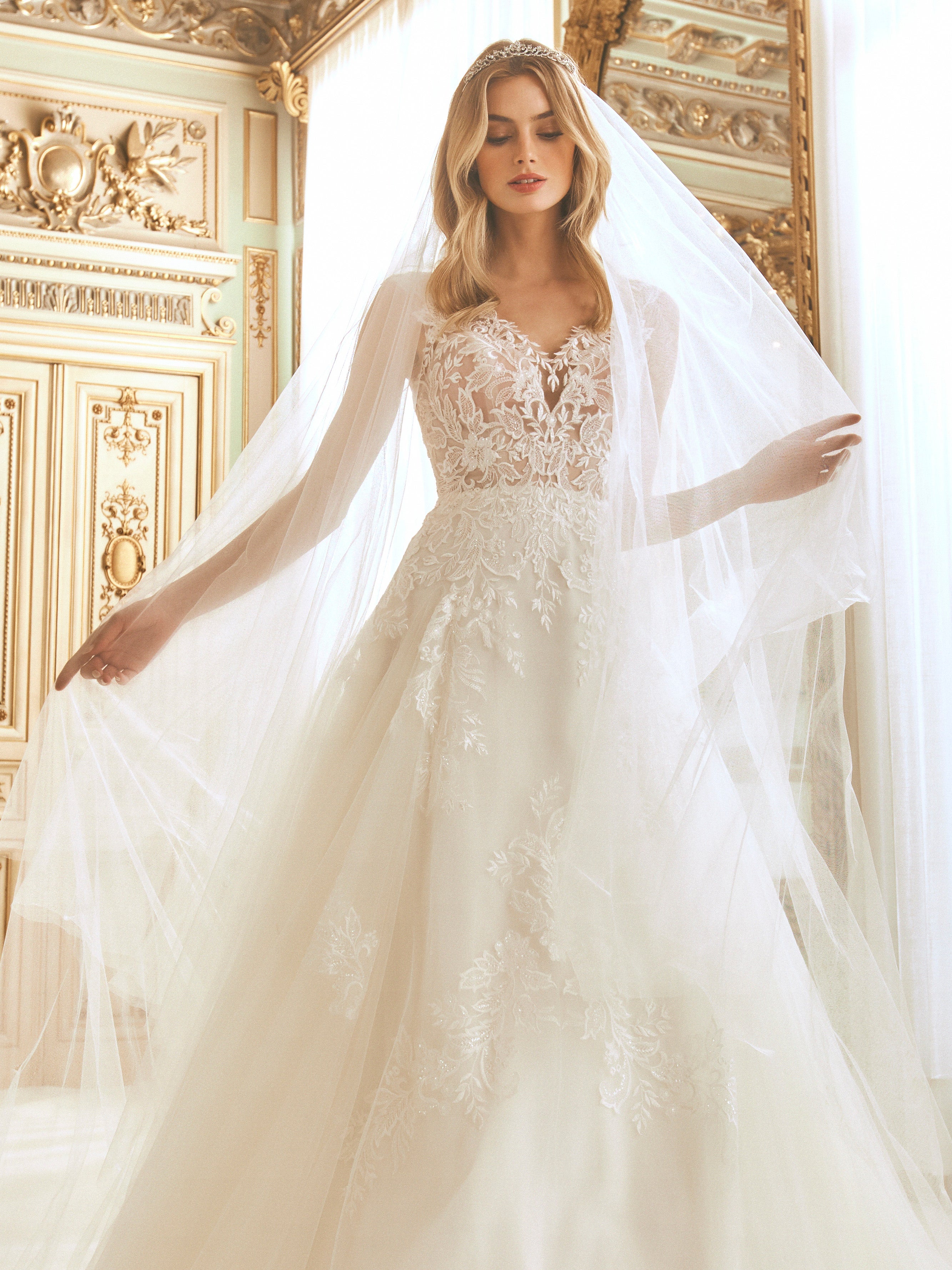 Vintage Bridal Veils and Wedding Capes
A lightweight wedding cape is another non-traditional option, particularly for backless and sleeveless wedding dresses.
Wedding capes in light tulle or organza add volume and cover the arms and shoulders but not your head. They can totally transform the look of snug-fitting mermaid wedding dresses, and are becoming an accessory of choice for fashion-forward brides.
Finally, many brides choose to follow the 'something borrowed' tradition by wearing a vintage wedding veil, perhaps one that has been handed down by your mother or grandmother.
Many vintage bridal veils are in the 'mantilla' style – a single layer shawl that is worn gently over the head (the golden rule is 2 inches/5 cms from the hairline) and framing the face with lace edging.
The fluidity of a mantilla wedding veil perfectly suits most mermaid wedding dresses, but played right can also look incredible on princess and évassé wedding dresses.
Let your bridal consultant guide you to the perfect wedding veil for your dress and type of ceremony.
And don't forget to peruse the House of St. Patrick accessories collection for more ideas on how to create your total wedding look!