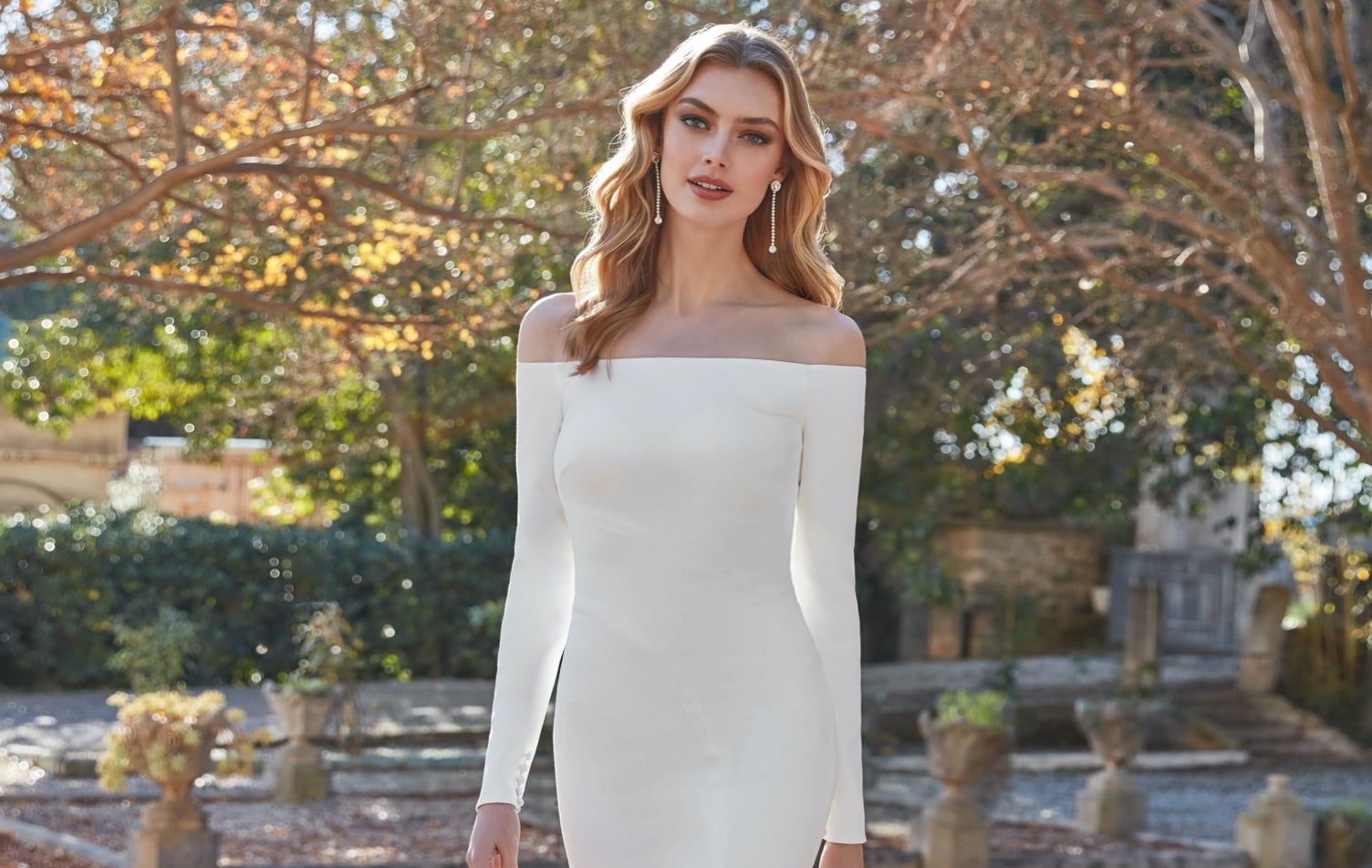 The House of St. Patrick doesn't just want you to look beautiful on your wedding day, we want you to look top-to-toe gorgeous!
This is why we ask you consider carefully the neckline of your wedding dress.
While all elements of your overall look are important, the neckline, which frames your face and neck, is perhaps the most important of all.
High Romance: The Sweetheart Neckline Wedding Dress
Like many brides, you maybe thinking; if I can't wear a sweetheart neckline on my wedding day, when can I? Formed by the upper curves of a heart shape, it expresses romance with a capital 'R'. While it looks gorgeous on women with a small to medium cleavage, bustier brides maybe better with an off-the-shoulder wedding dress, which still exposes shoulders and collarbone but keeps your middle cleavage tucked away. However, this is not always the case. Lolite for example, has a classic boned bodice and full Mikado skirt, which could look gorgeous of fuller figured brides. With its deep sweetheart neckline and low-cut sides, Celestine is probably more suitable for petite brides seeking fairytale romance.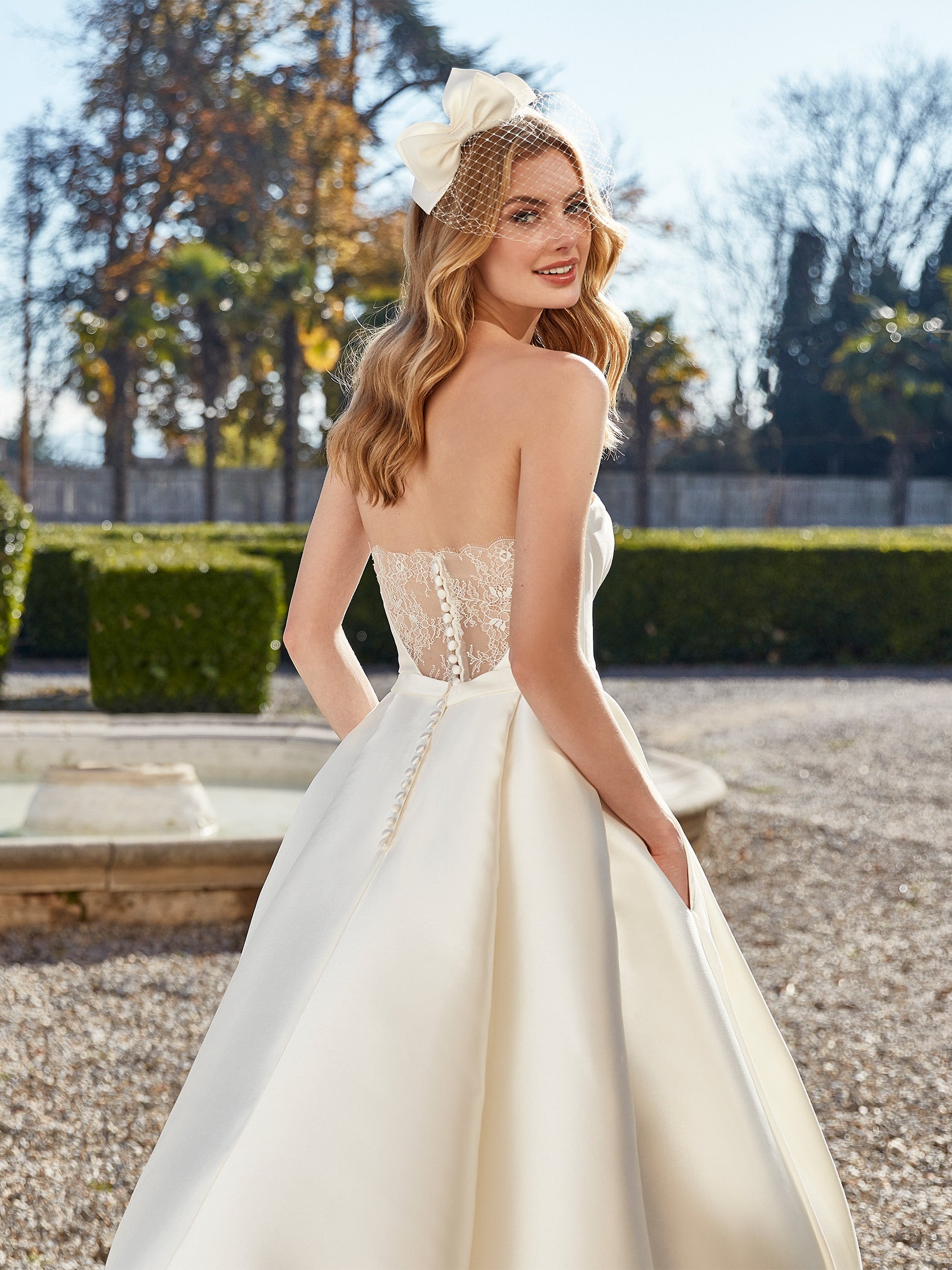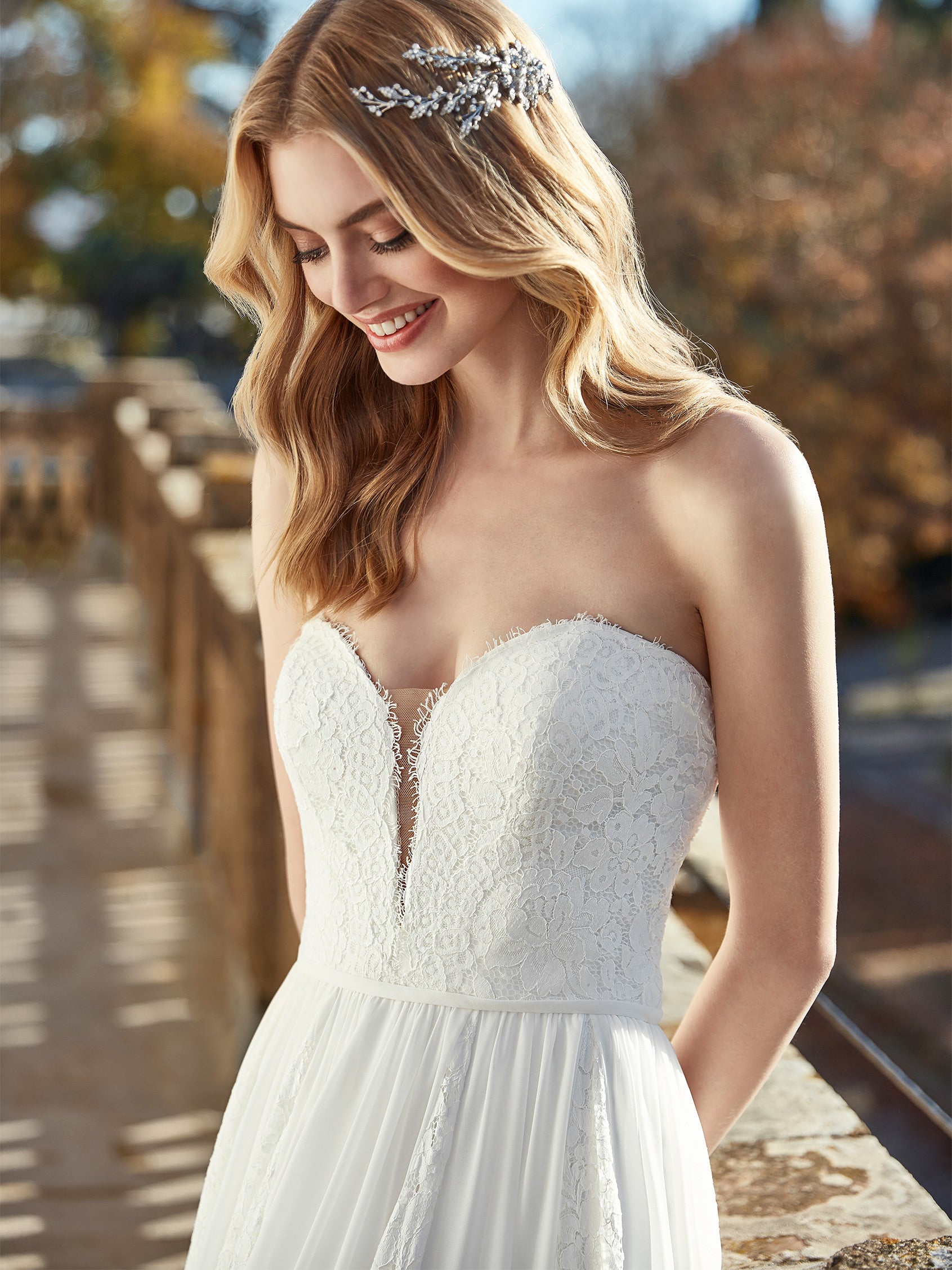 Timeless Elegance: The Off-The-Shoulder Wedding Dress
Pear-shaped brides can also look fabulous in off-the-shoulder wedding dresses, as they offset wide shoulders, accentuate defined waists and balance out hips. They express old-fashioned charm, and often appear in traditional princess wedding dresses. When a sleeve is added to the bodice, they cover arms but still leave sensual shoulders and collarbones exposed. Take Stroud, a strikingly svelte and minimalist mermaid style in pure crepe. A more youthful look is seen in Phenankite, a dreamy chiffon wedding dress with ruffles and lace.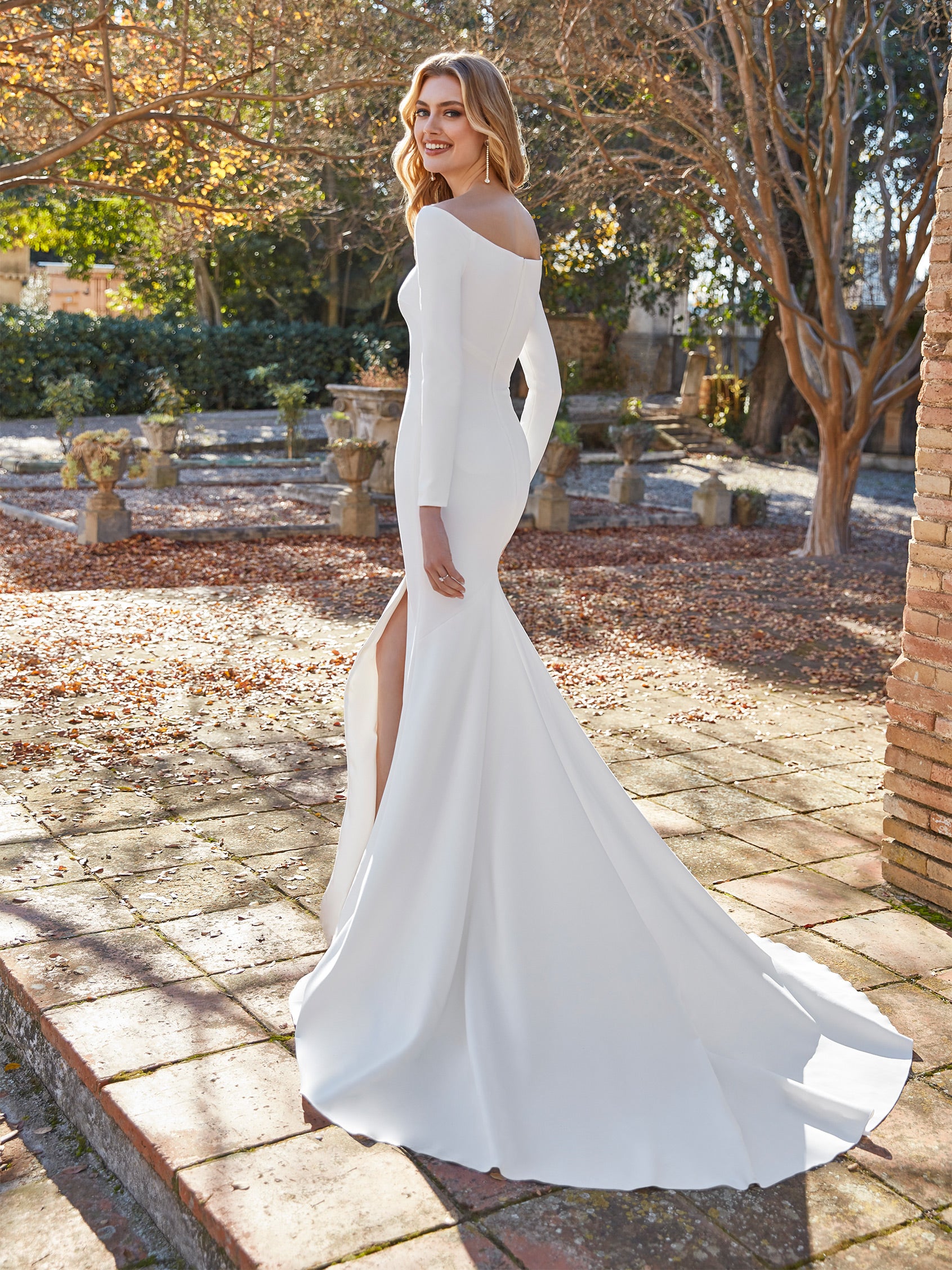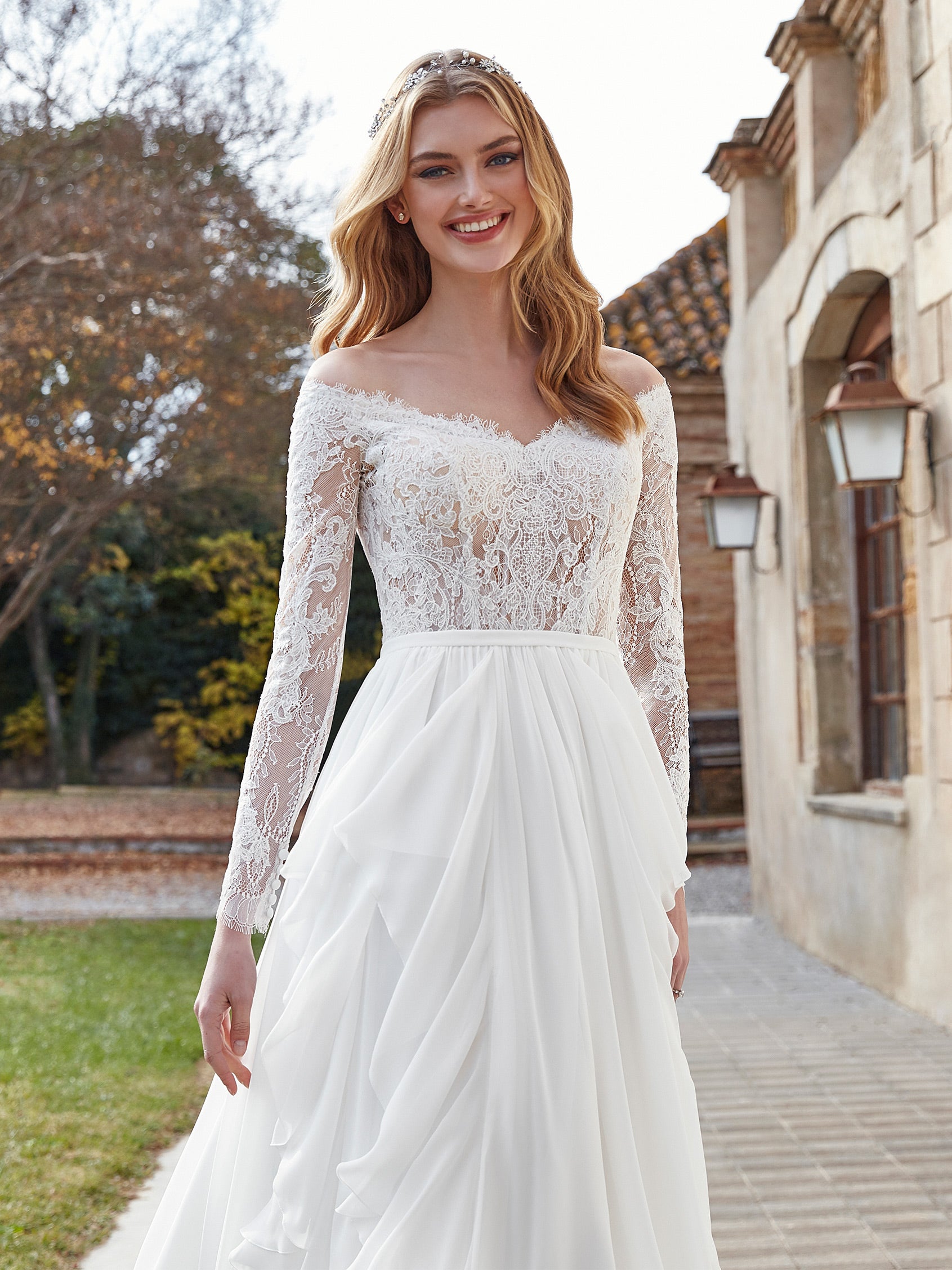 Seductive Charm: The Strapless Wedding Dress
If covering your arms is not an issue, a strapless wedding dress will support your décolleté and still expose shoulders and back. If fitted correctly, it will also suit all bust sizes. Olea works the strapless neckline with a draped and folded bodice that recalls classic haute couture gowns – perfect for pairing with an heirloom necklace! The less-formal Astelia is suitable for young brides and outdoor weddings, with strapless bodice formed by a wide lace cummerbund and puckering over the cleavage area.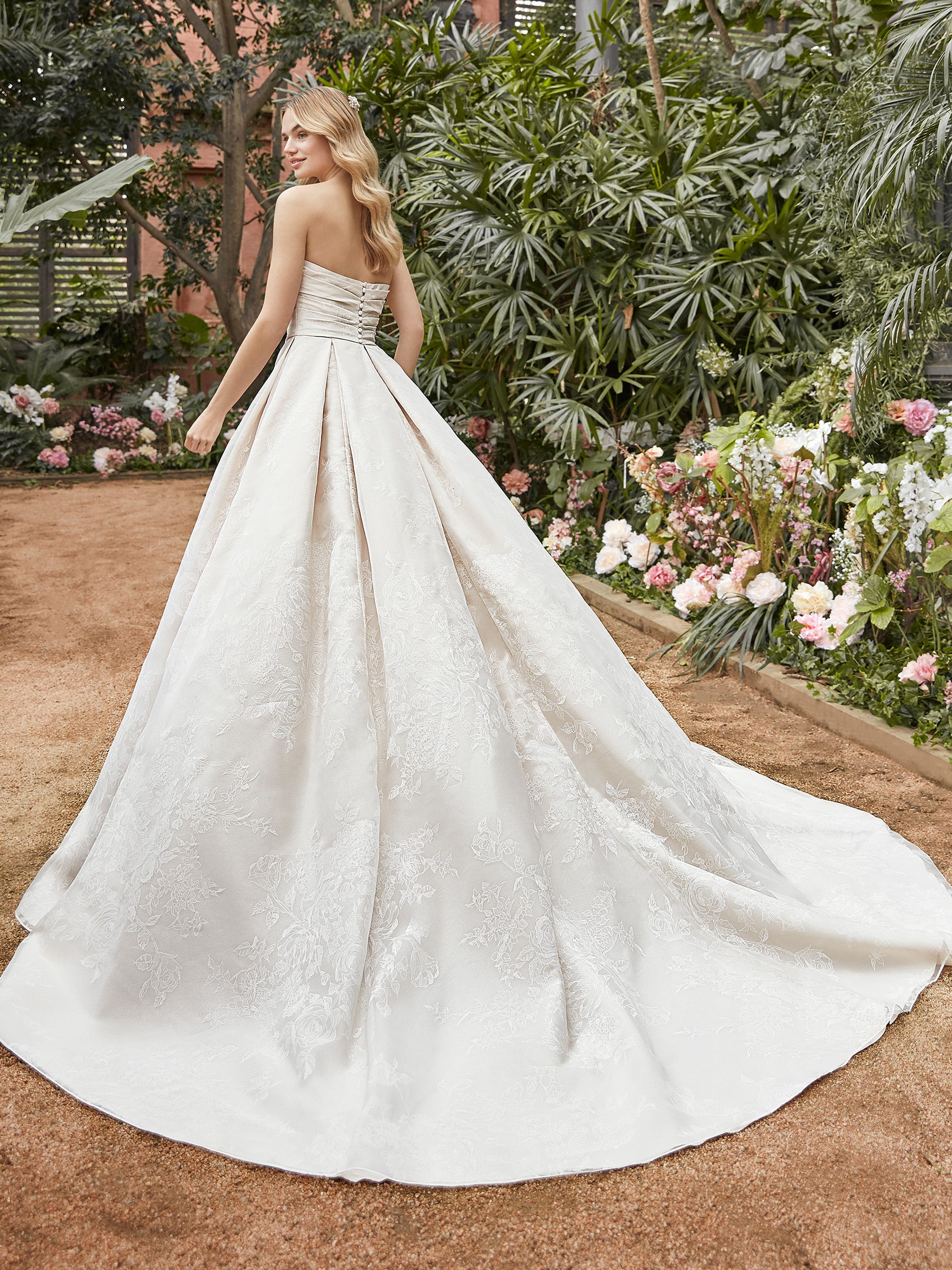 The Classic: The V-Neck Wedding Dress
For B and C cup brides, the V-neck wedding dress is ideal, though in truth this classic neckline flatters all cleavages. It also adds the illusion of height, which most of us are grateful for. St. Patrick has used V-shaped necklines across our entire range of silhouettes, from princess to mermaid wedding dresses, A-line (or 'evasé') and sheath. Lazulite enhances the V-Neck with a flattering 'cross your heart' effect on the lace bodice, which provides a defined form and extra support. Patten is a more daring V-neck, plunging to the lower point of your cleavage and contrasted with a delicately beaded illusion back.
Find you nearest dealer, make an appointment and discover the entire range of wedding necklines and silhouettes for all brides from the House of St. Patrick.
Top Tip: If you are planning on wearing a special necklace on your dream day, don't forget to take it with you to see how it looks against the type of neckline you choose.