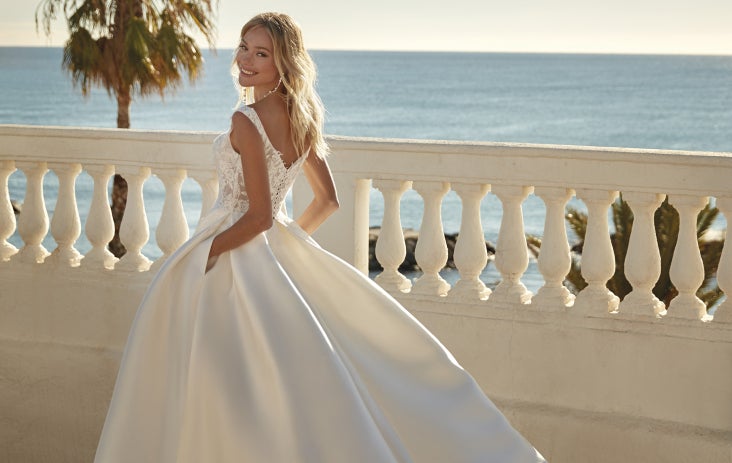 The St.Patrick guide to wedding dress trains
Wedding dress trains are having a moment!
Modern bridal fashion gives us a huge variety to choose from. From detachable wedding dress trains accessorized with flowers and bows, to customized trains that let you choose the length, the wedding dress train now plays a major role in creating your total wedding look.
There is no hard and fast rule when it comes to choosing a wedding train length to suit your body type. Shorter brides may want to stay away from very long wedding trains, which could swamp them. But apart from that it depends on your mood and the type of ceremony.
For outdoor weddings you'll need to be mindful of moving around in nature. For formal, indoor weddings nothing looks more spectacular than a mermaid wedding dress with a long train.
The Sweep Train
The chic and no-hassle sweep train is about 15 to 25 centimeters longer than the skirt. It's a great choice for outdoors and especially beach weddings, and its compact dimension looks particularly alluring on minimalist-style wedding dresses.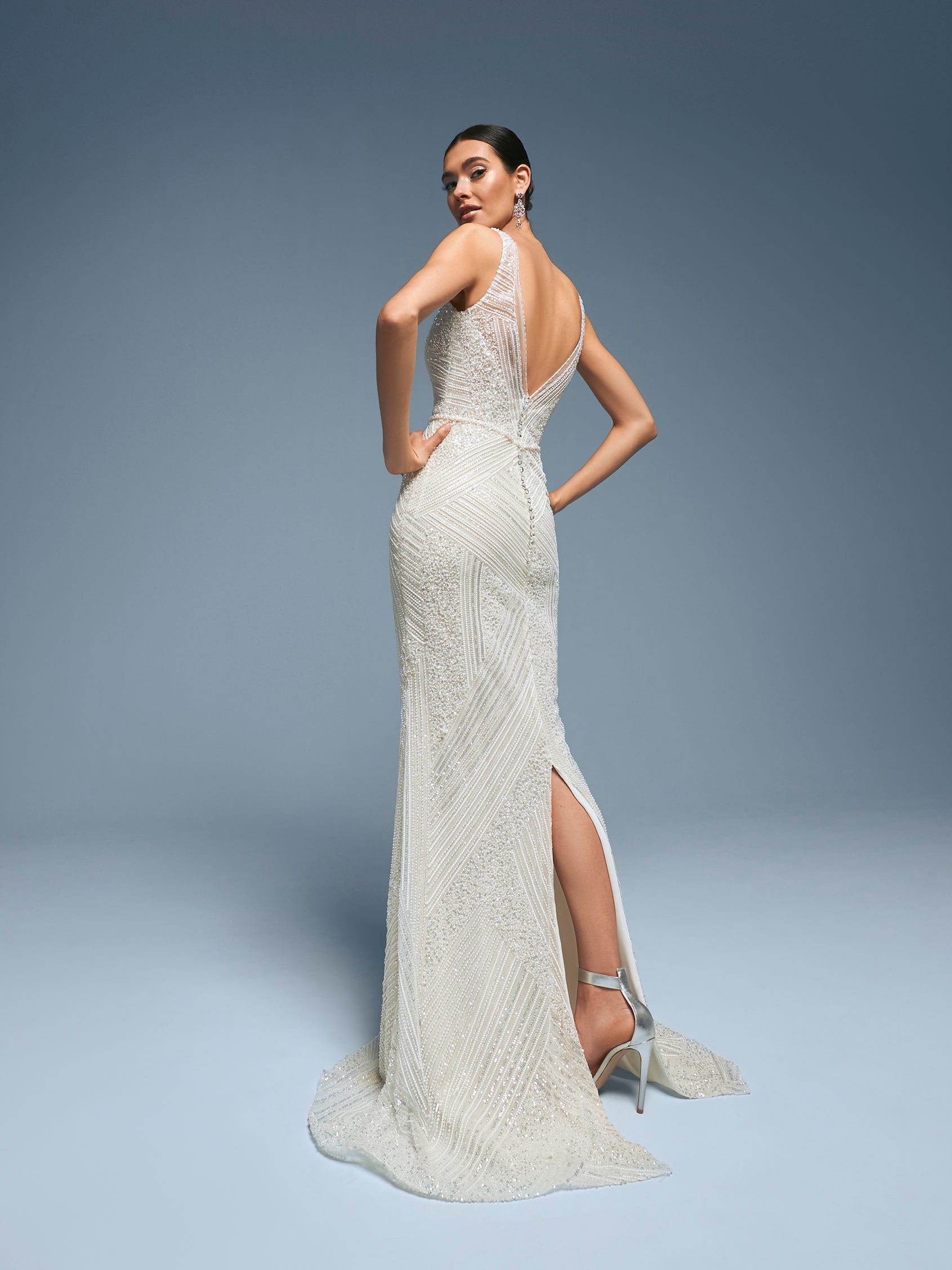 The Chapel Train
At between one and one and a half meters, the chapel train is the most popular train length with brides. Suitable for all types ceremonies, it always looks elegant, especially on princess and ball gown style dresses. Its length doesn't require any special handling, and can be easily swept up over you arm.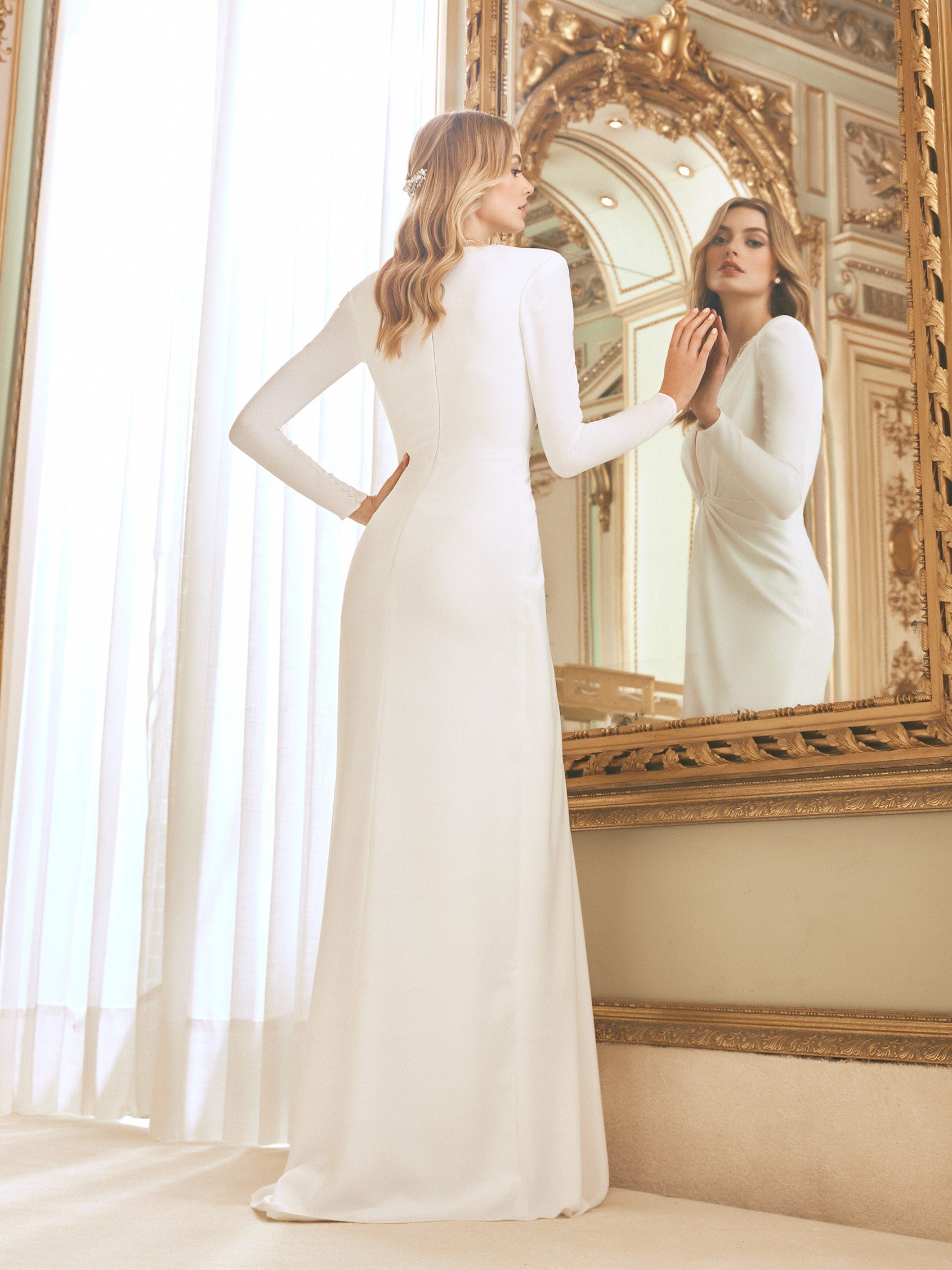 The Cathedral Train
Measuring over two meters, the cathedral train brings boosted drama. Just keep in mind that you will probably need some help adjusting it to a proper 'sweep' as you walk down the aisle, and possibly when you get in and out of the wedding car or carriage to make sure it doesn't get damaged or soiled.
When choosing a wedding dress with a long train, look for lightweight, fluid fabrics such as crepe or georgette. A scalloped lace edge adds an unforgettable touch of glamor, and works beautifully with a lace bodice to pull the look together.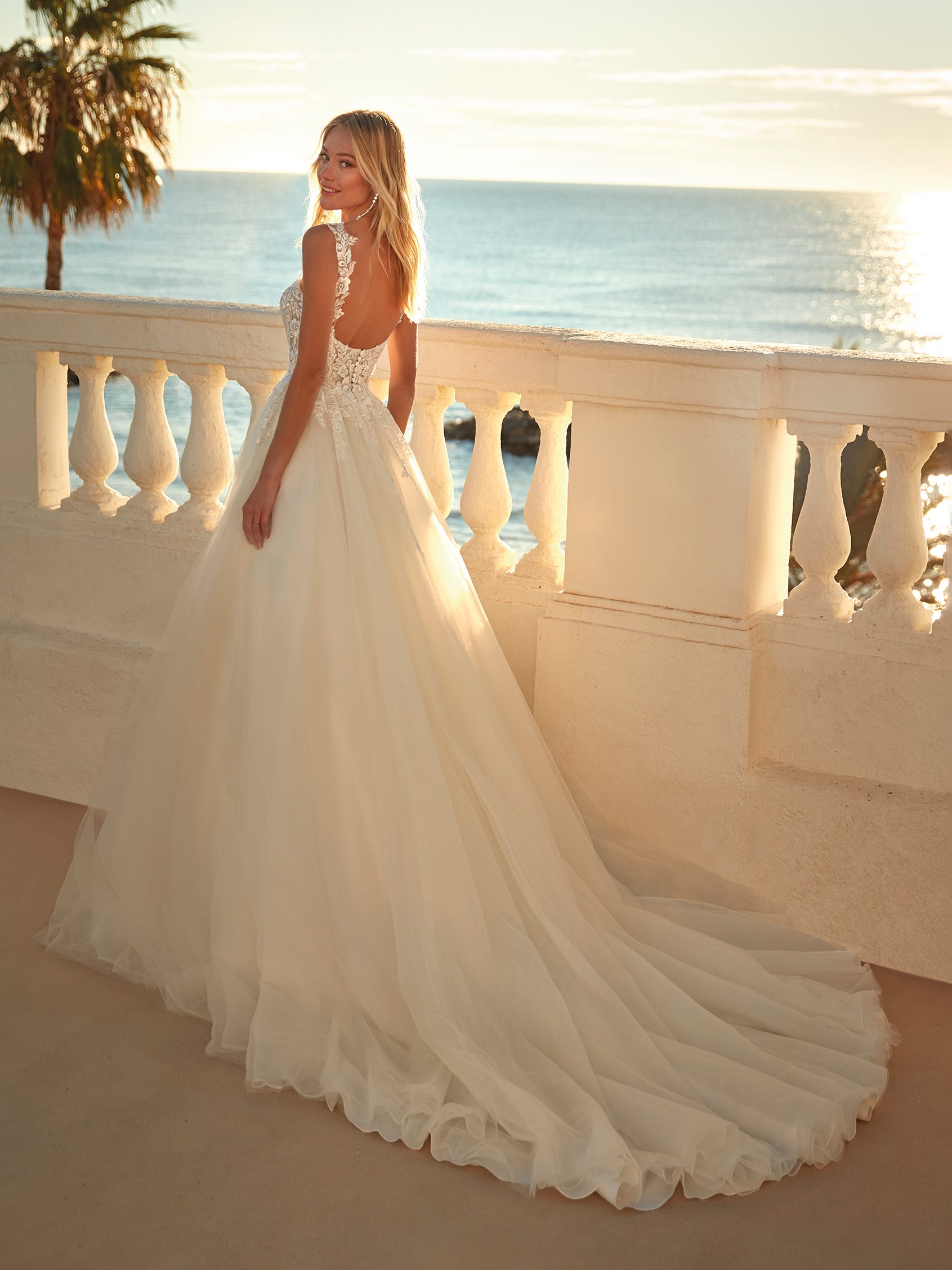 The Royal or Monarch Train
What the first thing you remember about Princess Grace's iconic wedding dress? Or Princess Letizia of Spain? Chances are its extra long train!
At three meters (or more) long, the royal or monarch train is the queen of the crop! Many brides choose to have them on tailor-made gowns - might as well go all the way, right? St.Patrick offers extra-long wedding dress trains as part of their customization service.
Of course all that glamour needs a little extra effort. You are going to really need to practice walking in a wedding dress with a monarch train, and enlist your bridesmaids to learn how to 'bustle-up' – the skill of folding the train into a manageable bundle so you move around.
Your bridal consultant will be happy to show you how!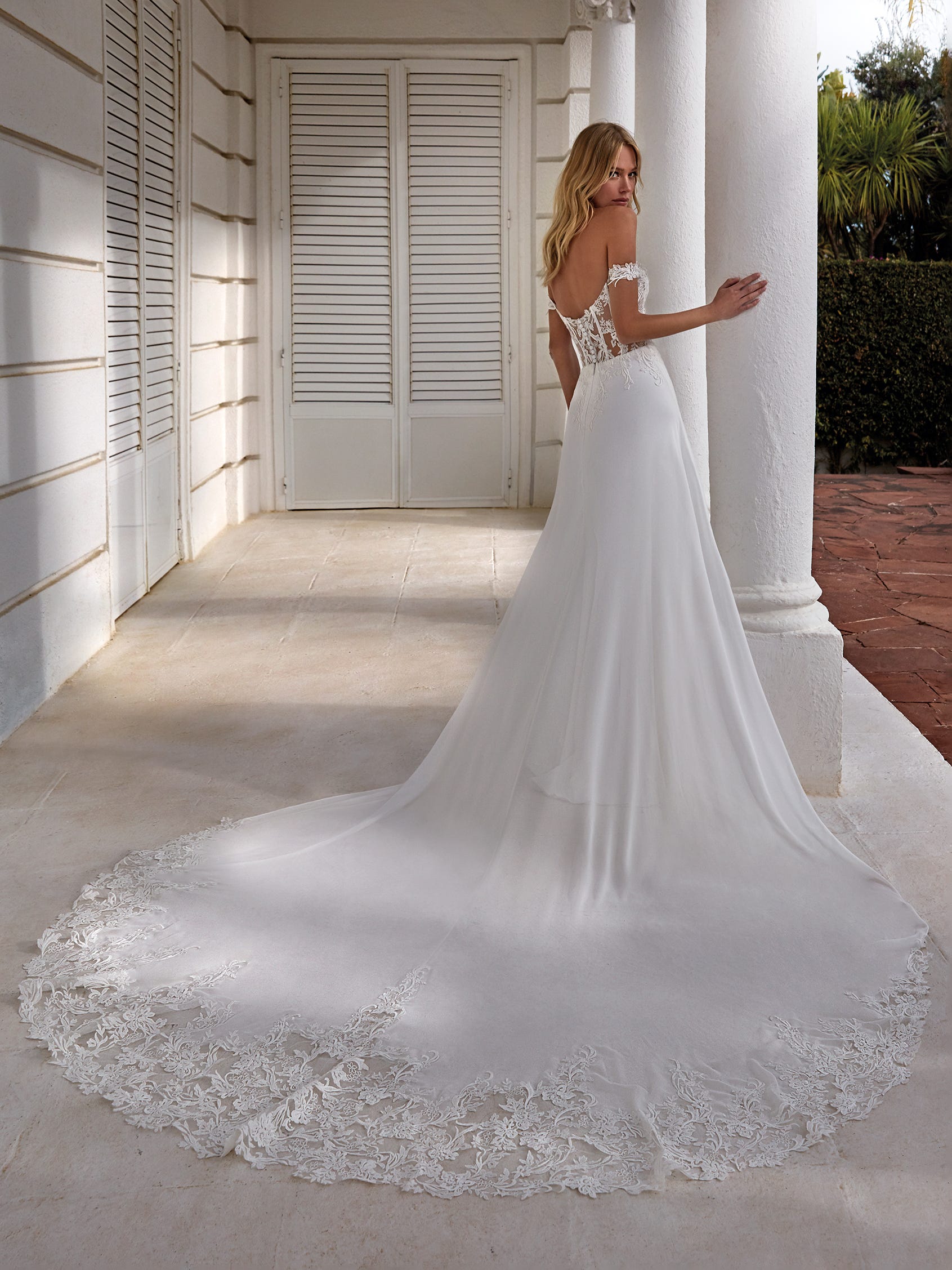 The Watteau Train
A wedding train-style that's really gaining traction on the catwalks is the Watteau. And understandably. A sweep of fabric falling from the upper or lower back (so therefore detachable) it adds volume but at the same time creates a chic, elongating effect.
The Fishtail Train
A feature of mermaid-style wedding dresses, the fishtail train is just that! It creates a sensual Goddess silhouette, especially when finished with a froth of organic lace.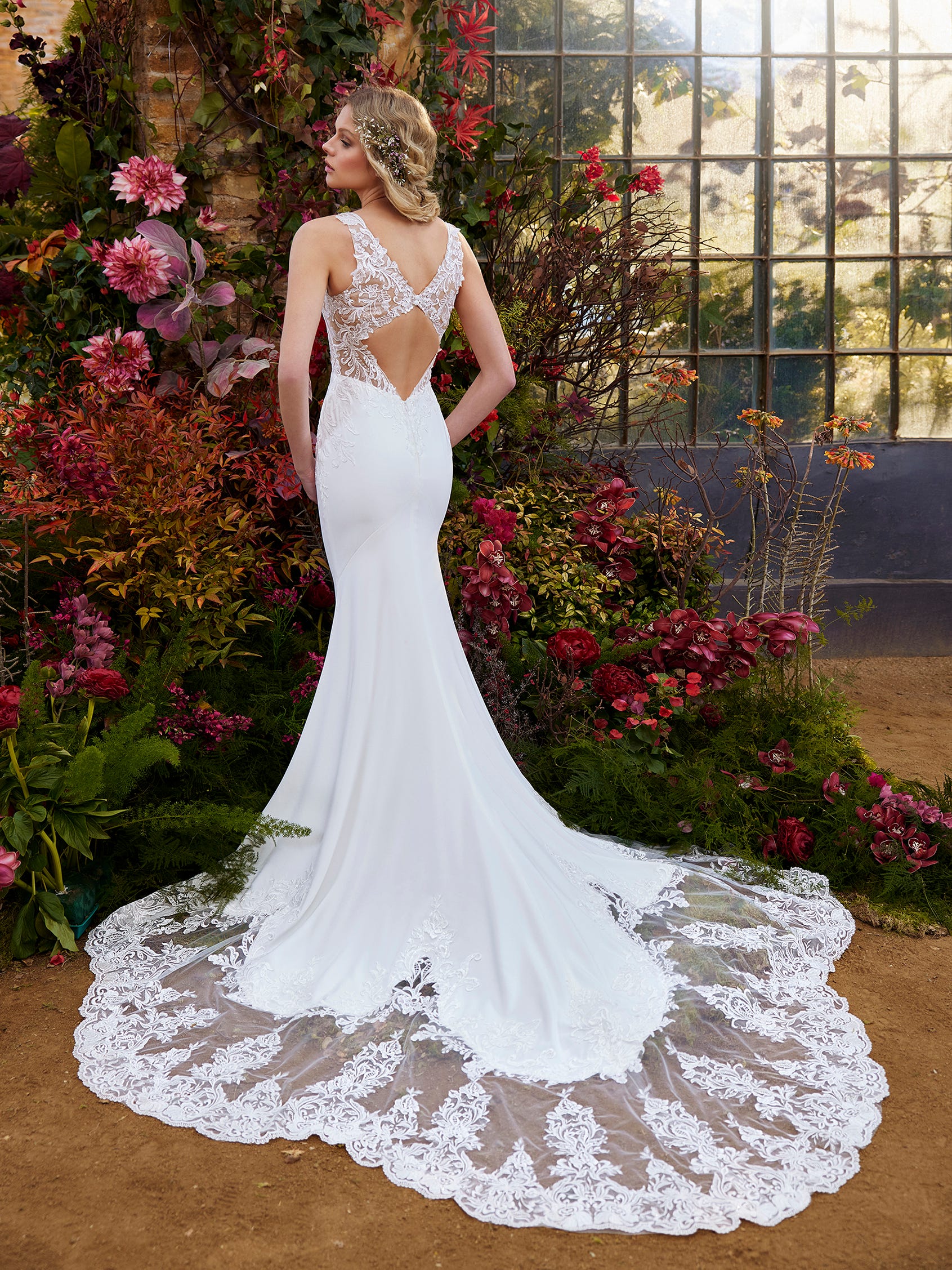 The Unconventional Train
When is a wedding dress train not a wedding dress train?
When it's an overskirt, a bridal cape or an elegant, detachable 'tail' sweeping down from the back or shoulder.
There are many ways to boost volume or movement beyond the traditional train.
See the range of trains, capes, overskirts and other bridal accessories from St.Patrick and have fun creating your total wedding look.