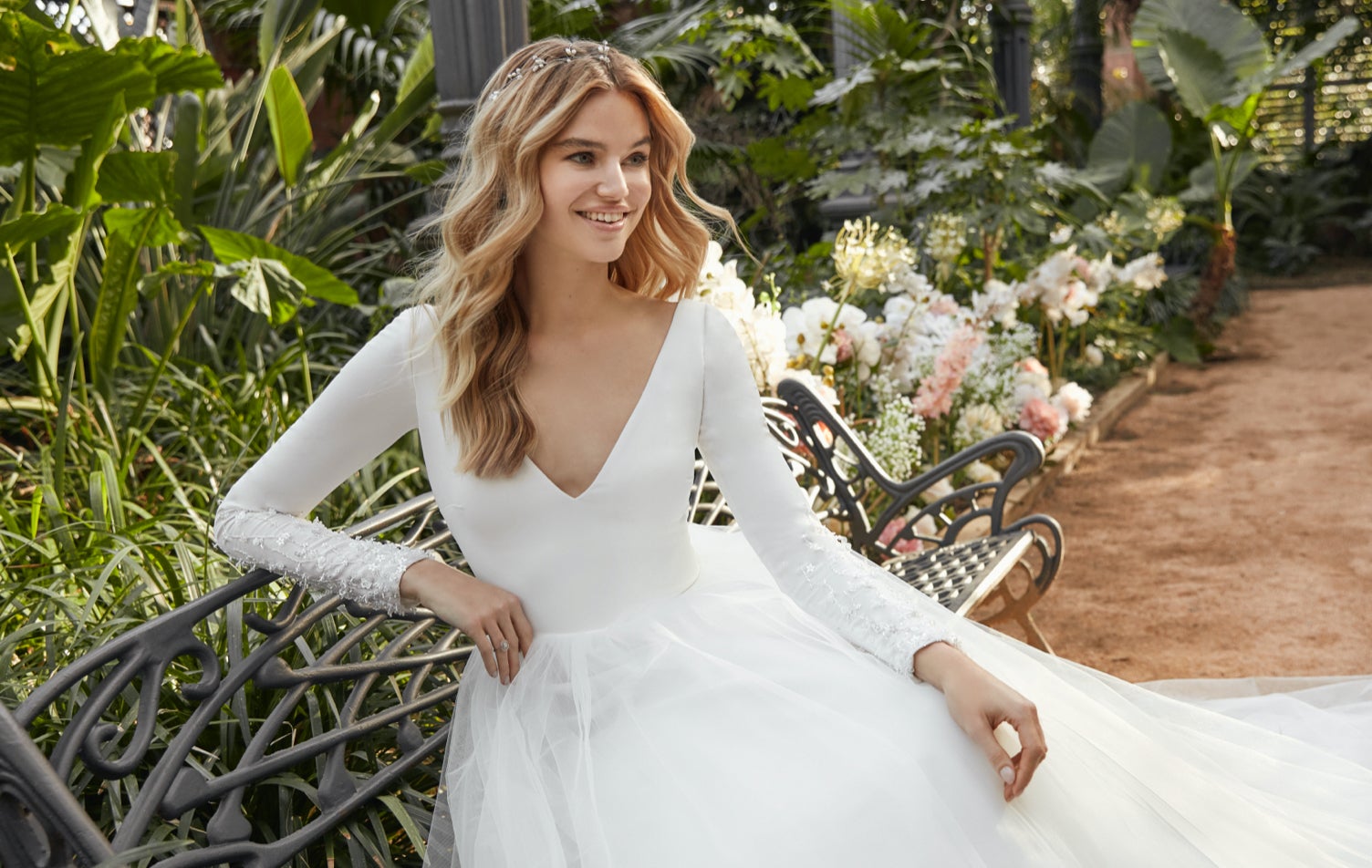 The House of St. Patrick presents the latest runway trends in wedding dresses that fuse elegance with high fashion. Here are the looks that capture the latest the wedding dress trends.
Corset Bodices Trending in 2021
There is no better way to flatter our post-confinement figures than a tight bodice and extra full skirt. That is exactly what you get with a princess wedding dress featuring a fitted corset bodice. Thanks to new technology the boning in corset bodices no longer feels restrictive, but rather bend and flex with your every move. St.Patrick has created sensual, understated corset bodices for dresses such as Massonia, which is crafted in rich brocade and has an elegant pleat over the bust line. Placea features textural 3D embroidery, which is placed over the corset bodice and sweeps down to a full A-Line skirt.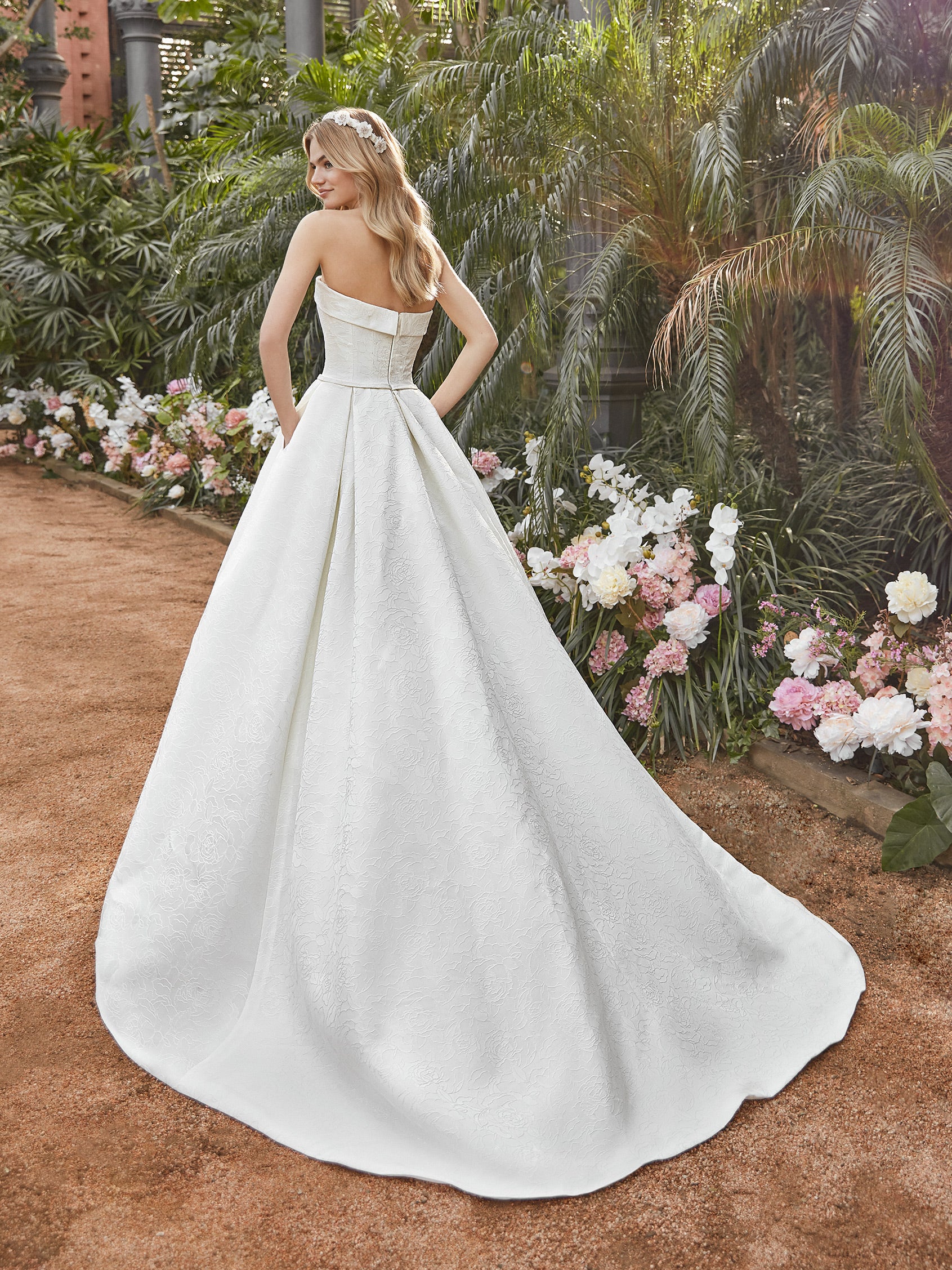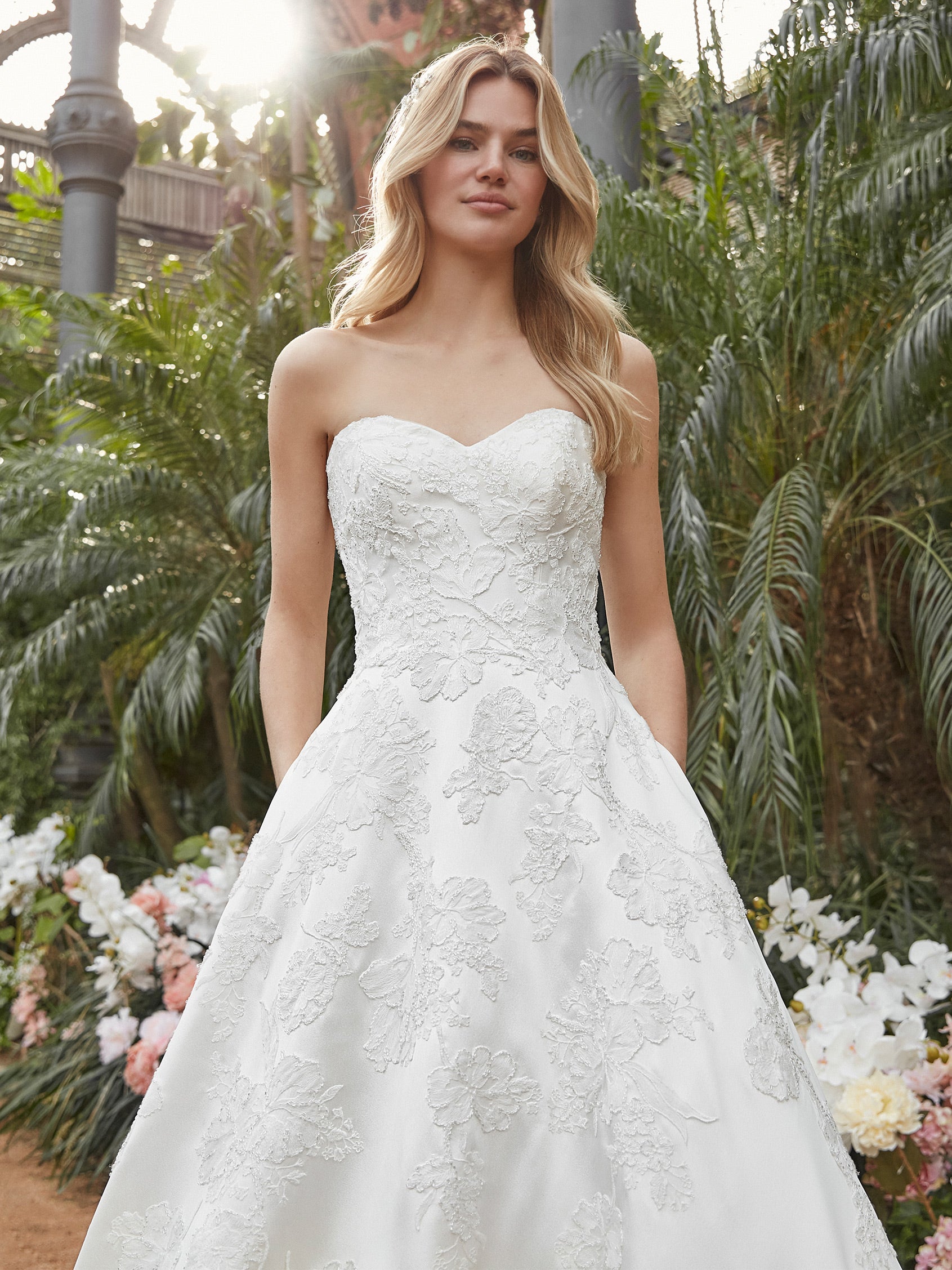 Long-Trains – A Royal Wedding Dress Trend
Blame it on the wedding scenes in 'The Crown', but an extra-long train – often called a 'cathedral' or 'monarch' train – is trending. Back in the day, choosing a long train would have meant enlisting extra help getting you out of the wedding car and onto the aisle. Today, lightweight fabrics create volume without the weight – so you can have your grand entrance and feel featherweight too. Staley is a sweetheart neckline wedding dress crafted in mikado – a luxurious, silky finish fabric – and featuring an elegant, generous train. Part of our mermaid wedding dress collection, Pavonia creates its train from cascade of ruffles on a fishtail skirt.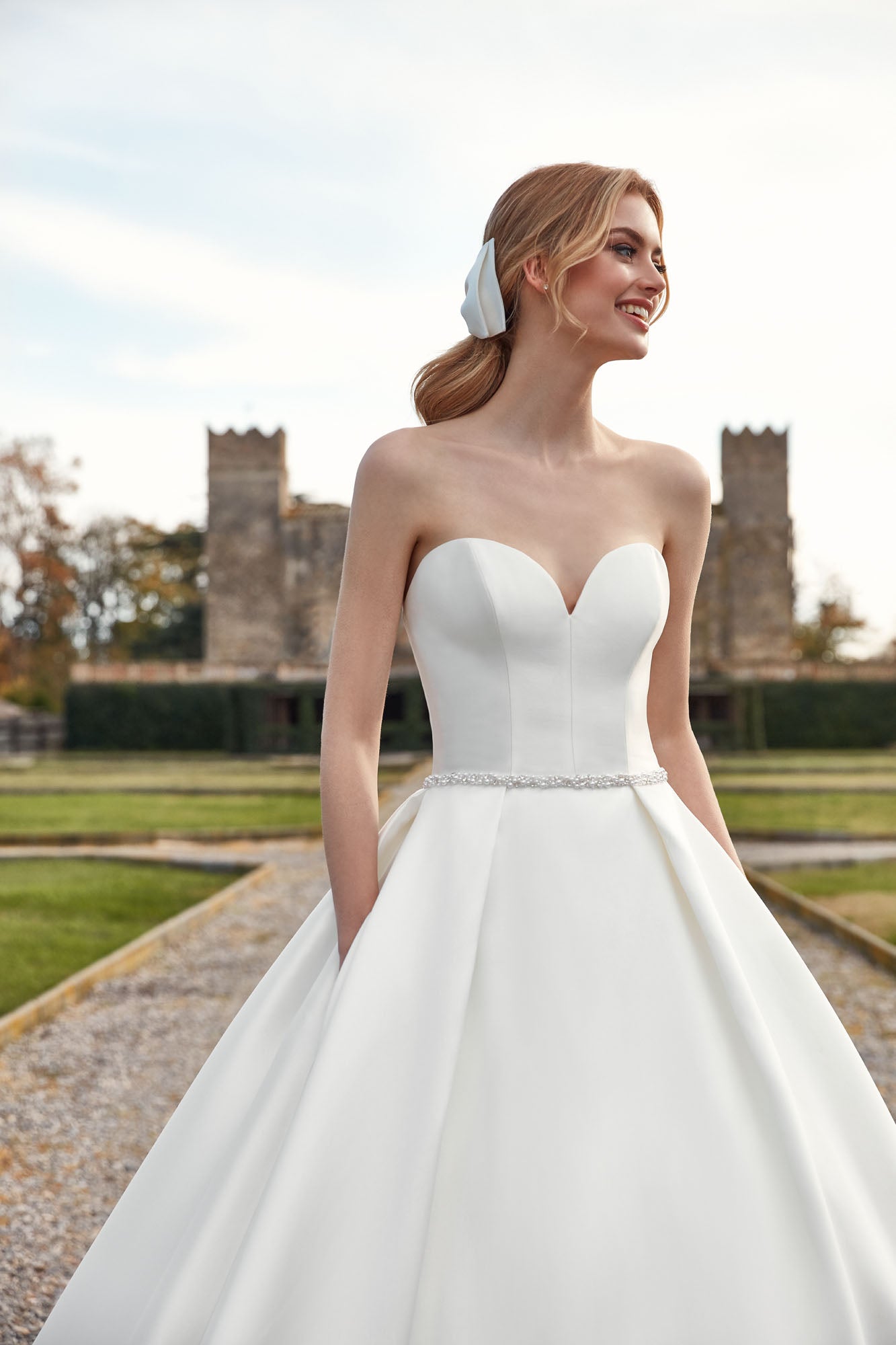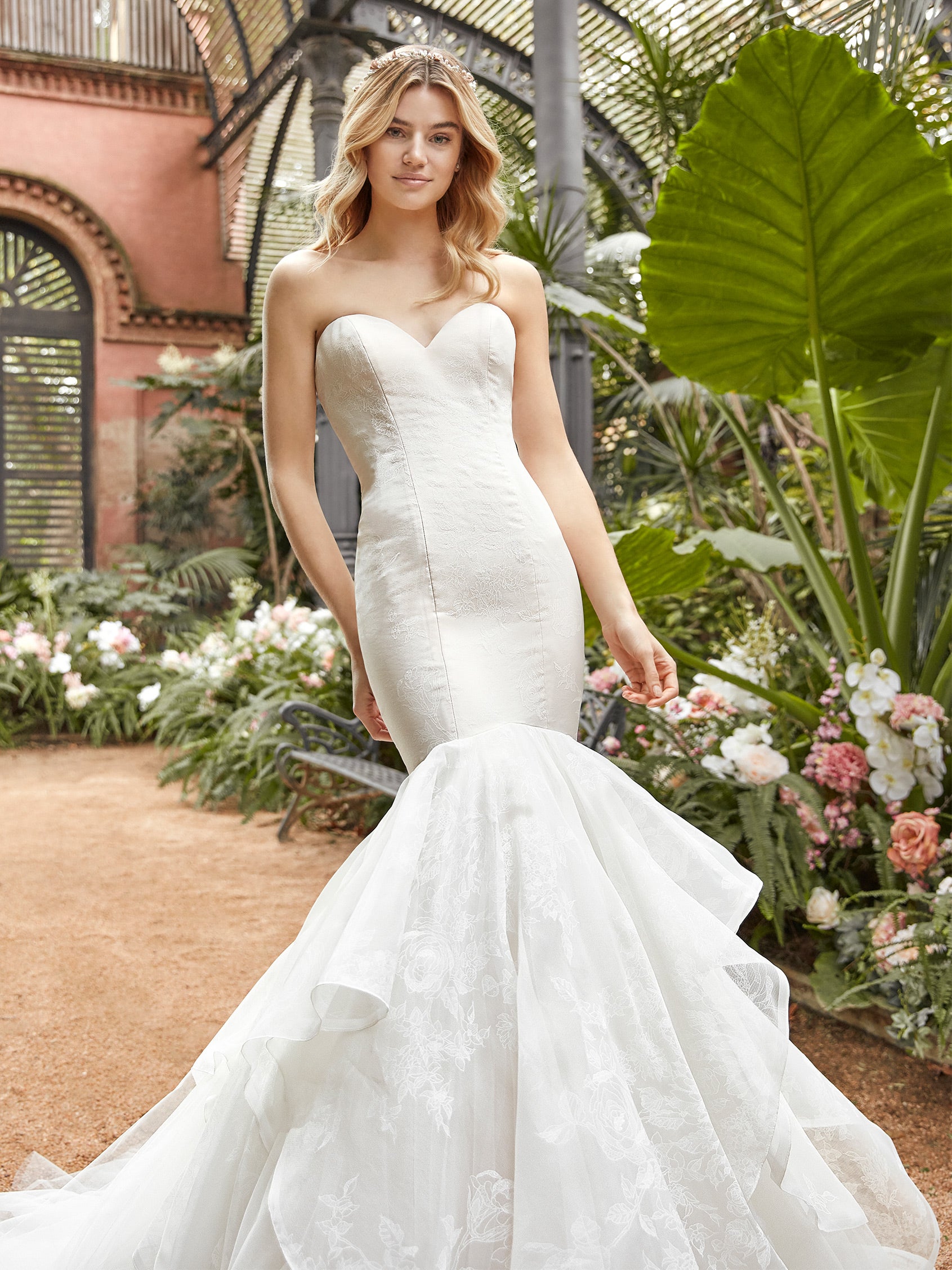 Long-sleeved Wedding Dresses
With many brides having to postpone their wedding plans, the return of the long-sleeved wedding dress in 2021 is hardly surprising. Lace and lightweight fabrics make them suitable for trans-seasonal weddings too, or simply for brides who feel more comfortable covering their arms and shoulders. Larimar is a simple and chic A-line wedding dress that dresses its long sleeves with lace embroidery on the lower arm. Laurus matches its feathery tulle skirt with delicate, 3D beaded embellishment around the cuffs of the sleeves.
Pockets Make A Comeback on Wedding Dresses In 2021
Deep pockets in a full skirt on a princess wedding dress do more than help you create an elegant pose for your wedding photos, they are a practical way to keep little things like lipstick and your cell phone within easy reach throughout the day - and alleviate your bridesmaid of the responsibility! Deep side pockets slip seamlessly into the folds of Pallea, a princess wedding dress lace and mikado from the La Sposa collection. Also in mikado, the iconic streamlined silhouette of Tahitian works the deep pocket accent to perfection.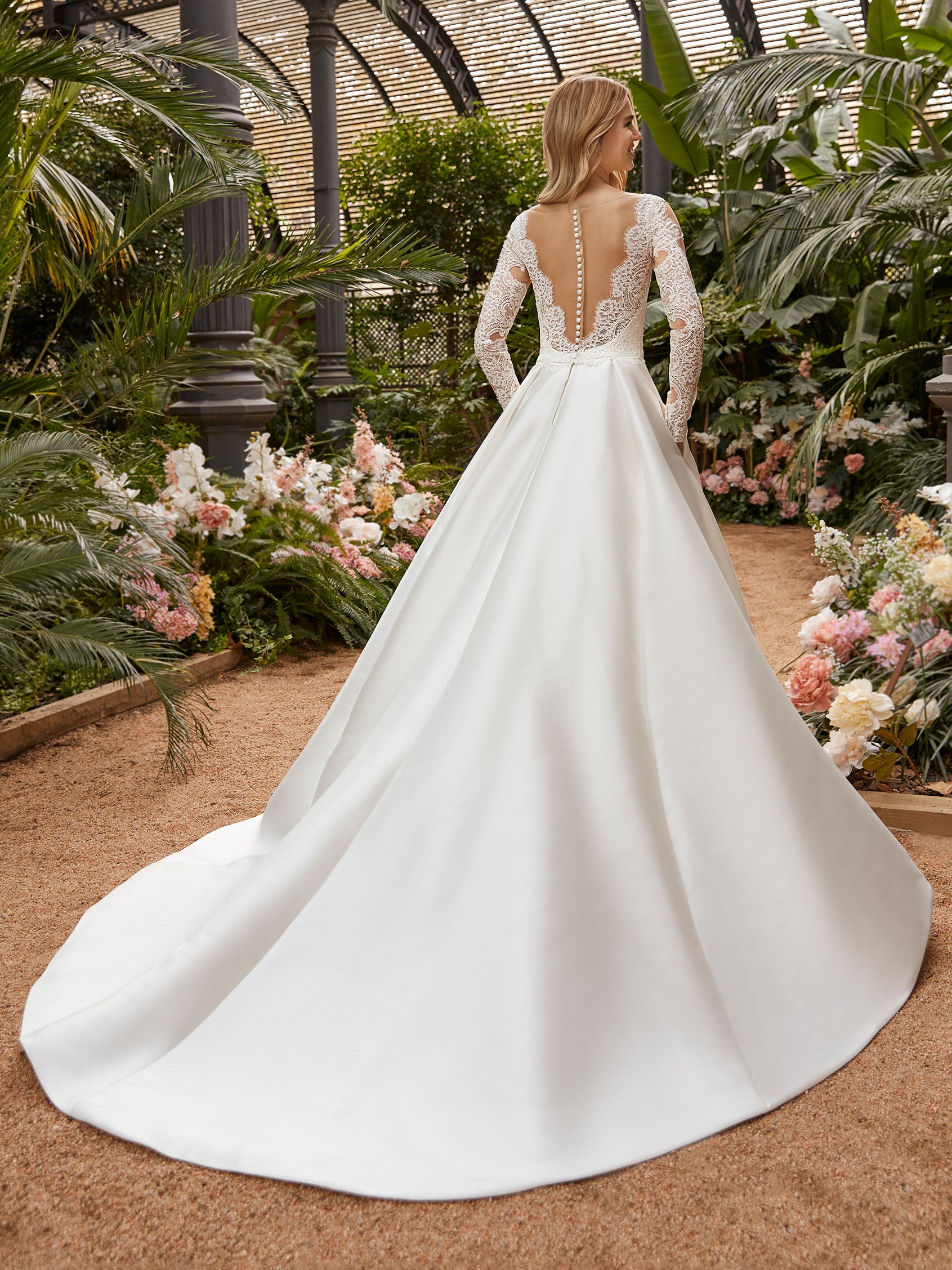 Eco Friendly Wedding Dresses: Not a Trend, But A Movement
Sustainable fashion has been trending for a while. Now the bridal industry has caught up. The Pronovias #WeDoEco collection represents a leap forward in wedding dresses that care for the planet as much as you do, with eco fabrics and trims, and harm-free processes and packaging. The House of St. Patrick is diligently applying sustainable standards can be applied to all types of wedding dresses throughout their ranges. Subscribe to our mailing list and be in the know!
For more high-fashion bridal looks discover our Studio Collection and see amazing gowns inspired by modern-day fairytales.