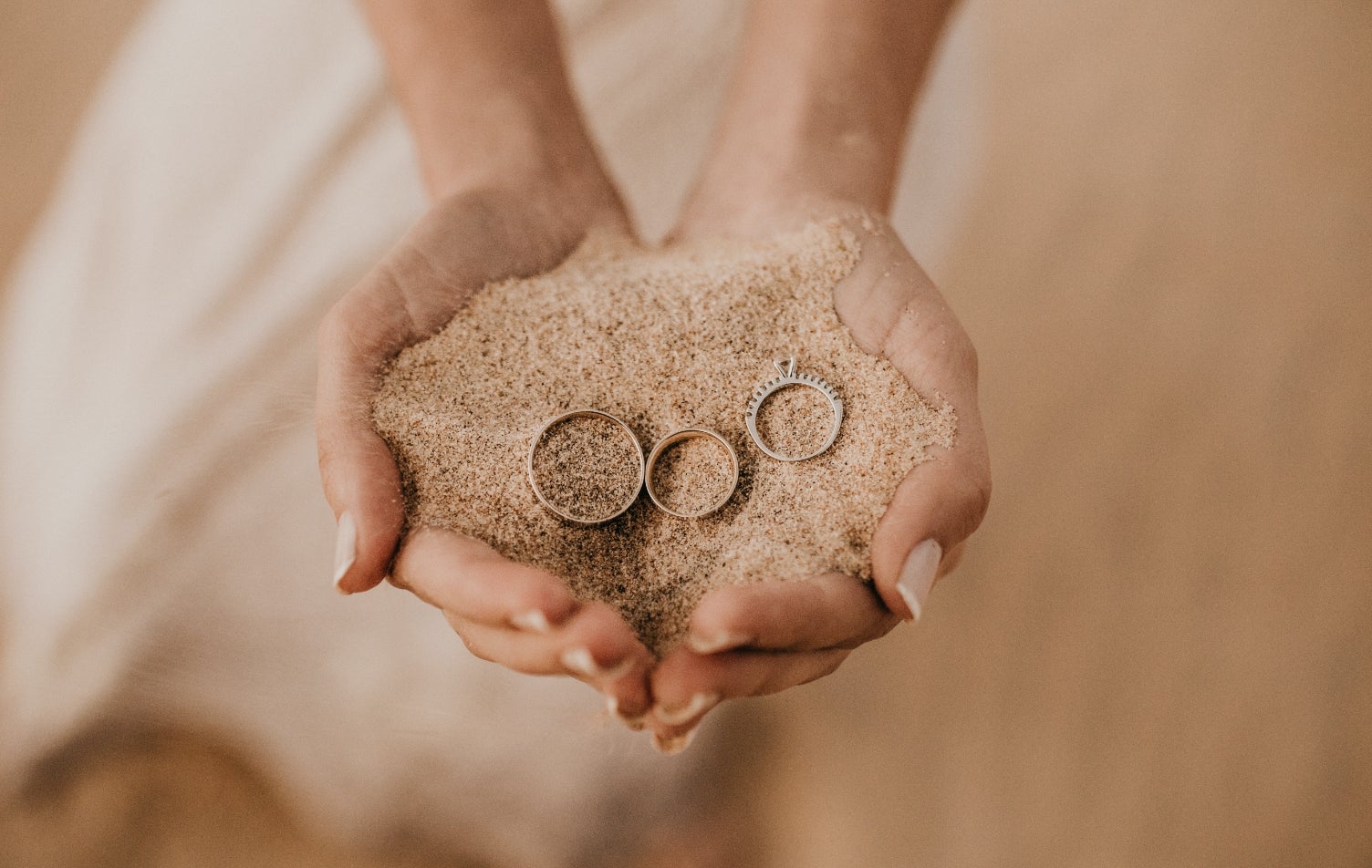 Summer is here, restrictions have eased and beach weddings are back in style!
And high time too! Getting married by the sea is beautiful way to celebrate an outdoor wedding.
There are many types of beach weddings, from flower-laden marquees set up on cliff tops to casual ceremonies on the sand and tying the knot on a yacht.
Your beach wedding dress needs the same careful consideration, as not all styles will work in breezy, outdoor conditions.
So, how to dress for a beach wedding?
As a general rule, keep fabrics lightweight and the silhouette relaxed. Think about shoes too, as many brides choose to wear flat, sparkly sandals in order to remain more agile throughout the day.
Here are some more things to consider when looking for inspiration for a beach wedding dress.
Bare-all Backs and Legs
If you can't bare a little skin at your beach wedding, then when can you?
A bare back and shoulders, or a flash of leg, is the perfect summer accessory for your dream dress. Just make sure your skin is impeccable, with a golden tan (fake or otherwise) and a body lotion with subtle, sparkly effect.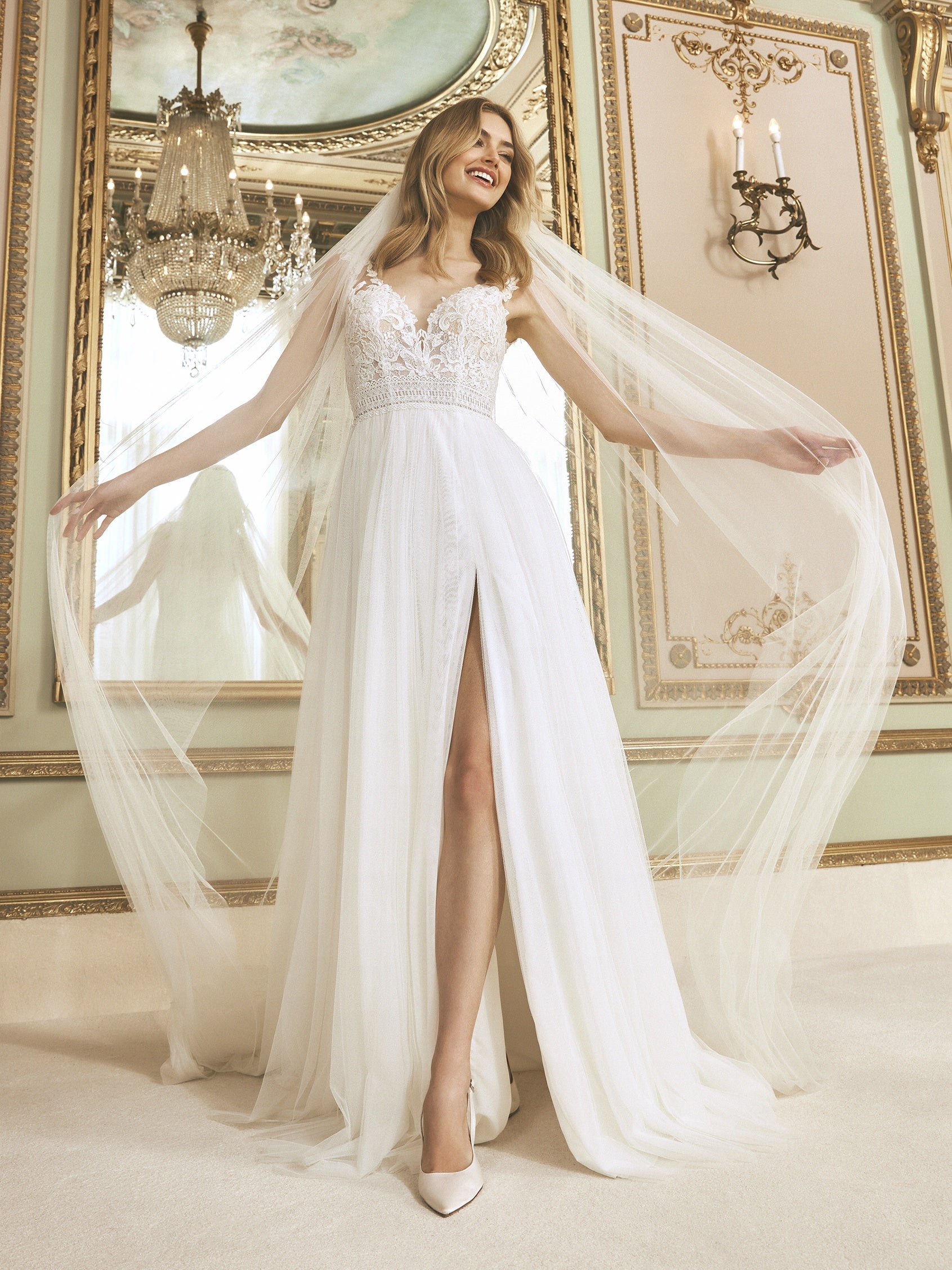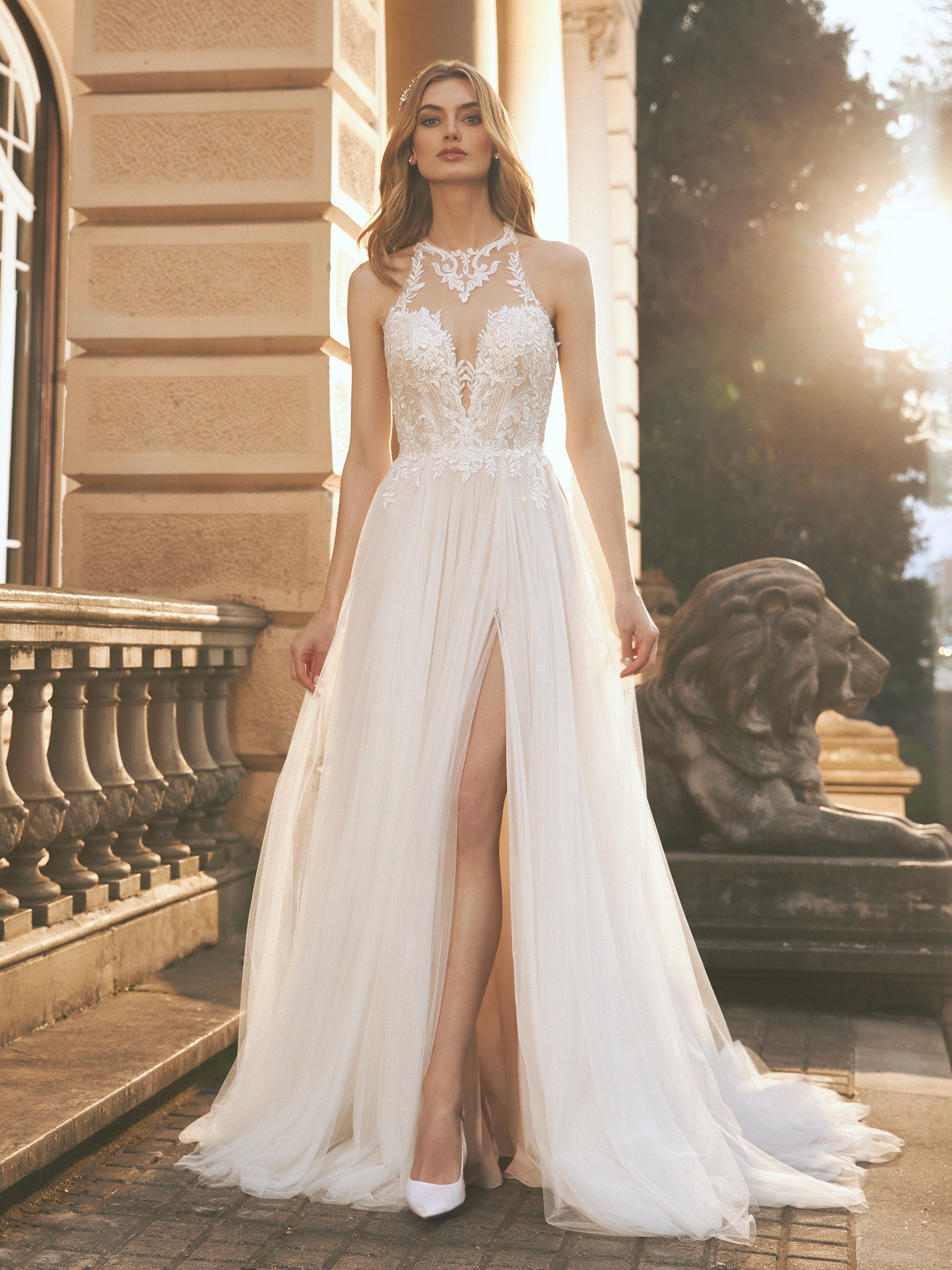 Boho Beach Wedding Dresses
A boho-style wedding dress is practically made with a beach wedding in mind.
Not sure what a boho wedding dress is?
Think a relaxed fit, handmade details such as macramé lace trim and embroidery, a carefree silhouette and an overall look that has a touch of magic.
The Sophie dress, from the new House of St. Patrick collection, fits this description. With a soft tulle skirt and matching detachable sleeves, it's perfect for a romantic beach wedding and full moon celebration.
Be A Mermaid Bride
What could be more stunning at a beach wedding than being an ocean goddess? A mermaid wedding dress is ideal for a beach wedding, but this iconic bridal silhouette comes in many formats.
For outdoor and beach weddings, choose a mermaid silhouette with a relaxed fit and soft, lightweight fabric, such as crepe or all-over lace.
With its bare, contoured back and sparkly straps, Opal expresses the beach mermaid look in high style.
For a cleaner, minimalist look in crepe, Peppard has a sparkly illusion back that would light up under the summer sun.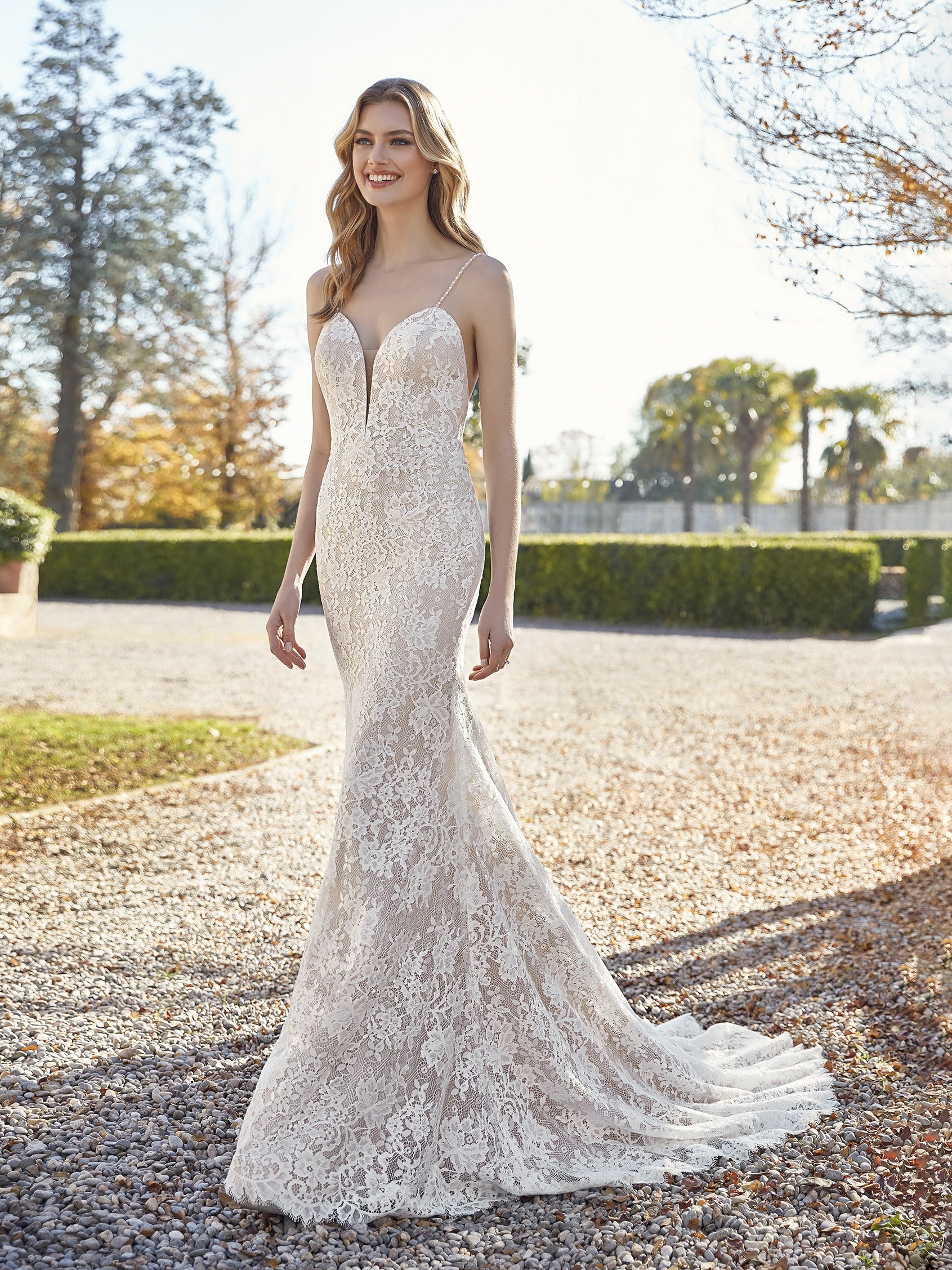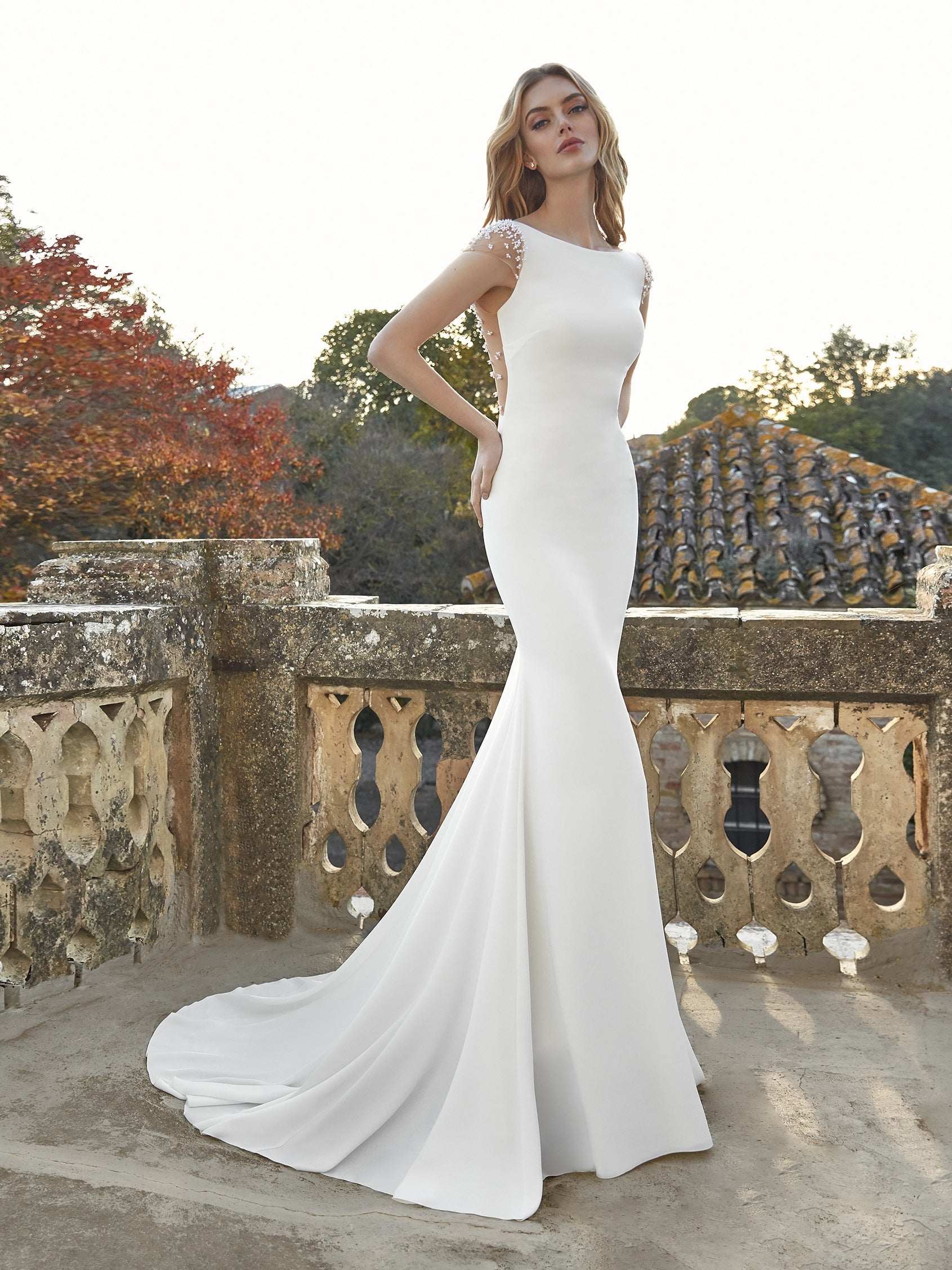 A Softly Colored Wedding Dress
Beach weddings are a chance to step outside the notion of a traditional wedding dress, and wearing a non-white color is an elegant way to do this.
Soft colors, such as nude, peach, and even pastel blue are a nuptial trend, and all would look gorgeous against the backdrop of golden sands and turquoise seas.
From our new 2022 collections, Bevan is a princess dress that is available in soft peach. With its keyhole back and semi-transparent sequined bodice, its presents the dreamy, floaty beach wedding vibe you are looking for.
Looking for more beach wedding styles? Also see the new collections from La Sposa and Studio for a timelessly elegant look for your outdoor wedding.